Blackacre in his natural habitat
I love Advent (and so does my dog), and so despite the lateness of this post, we're going to talk about the beginning of Advent. Mostly I love it because I was always annoyed that we called the time before Christmas "the Christmas season" and then once Christmas happened, it was bam, over. The Catholic Church really knows what she's doing: Advent, then a whole Christmas season! Plus, it allows me to keep my Christmas tree up for-ev-er...or until my husband insists it be taken down and put out of its misery. My dog Blackacre loves it because he gets a big indoor stick to chew on, all the time.
Because my temperament is melancholic, I am very idealistic about liturgical seasons: I always think I'm going to be the BEST! I am convinced that this is going to be the season that I give up all my sins and start levitating with holiness, a la
St. Joseph of Cupertino
: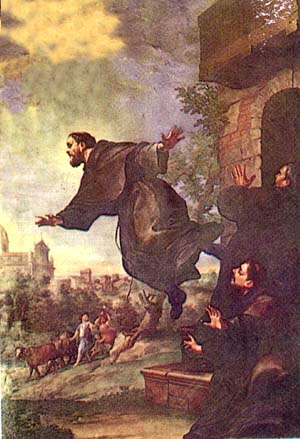 But this year the Holy Spirit has counseled me with temperance to be content that "others may become holier than I, provided I become as holy as I should." (
Litany of Humility
) So I have taken on a few things, given up a few others, in the hopes that I will truly prepare my heart for the coming of Christ. Tom and I are doing the Office of Readings every day together, I am reading the
Magnificat
Advent Companion and St. Athanasius' "On the Incarnation" a little bit each day, and we are fasting on Fridays from food.
I am excited about all that we have planned. On the day we got back from Thanksgiving, I cleaned our room (which is where we do the majority of our prayers), and did ALL the laundry (the biggest obstacle to a clean room). Now our room is like an oasis of calm, and praying there is really enjoyable. Since watching that Advent video I posted, I feel much more encouraged about my preparations - especially decorating the house! Some Christians or Catholics can begin to lump having a beautifully decorated home into the "worldly secular" concerns about Christmas, along with getting everyone you have ever known a gift and having a fancy Christmas party. But this isn't so; the physical preparations that we do affect our interior dispositions. Although I don't plan to spend a lot of money on the house decoration this season, I still think I can make it beautiful and peaceful in my home - and that's important. It's why the Mass is (ideally) said in beautiful churches, with lit candles and incense, wonderful music, and poetic prayers.
This Advent, I am excited to prepare my heart and my home. I am excited to come closer to becoming the woman that I am called to be, and to receive Christ into my home and heart. And since I'll inevitably mess most of that up, I'm also grateful to be a member of a family that provides a path home for the wayward and weary. I leave you with this wonderful Advent poem by the wonderful St. Ambrose:
In Christ we have all.
Let everyone approach him,
those who are sick because of sins,
who is as if nailed by his lust,
who is still imperfect
but eager to move forward with intense prayer,
who has already grown in m any virtues.
We are all in the hands of the Lord
and Christ is everything for us.
If you wish to heal your wounds, he is a doctor;
if you're burning with fever, he is the spring;
if your'e oppressed by sin, he is justice;
if you need help, he is strength;
if your'e afraid of death, he is life;
if you desire heaven, he is the way;
if you flee darkness, he is light;
if you search for food, he is nutrition.
"Taste," therefore, "and see how sweet is the Lord.
Happy the man who hopes in him" (Psalm 34: 9)