Last time I did 5 favs
, I posted the five things I WANTED to help me look less...frumpy in this pregnancy. I have tried some of them and found some others and thought I'd share with you all what has worked...
-1-
I know, where most of you live it's freezing, but not all of us are in the frozen tundra - and some of you maybe are just beginning to plan for your summer vacations. If so, I highly recommend this reasonably priced ($36.99) and slightly retro one piece. I bought it in a hurry last week in preparation for Jen's 30th birthday weekend at Captiva and despite my concerns about looking like the hugely pregnant uggo all weekend, I actually felt confident and cute. And for THAT, I would've paid way more than $36!
-2-
The skinny jeans for all of us thick-thighed ladies that swore we'd never rock skinny jeans. I am not built like a stick figure - when not housing another human being, my body shape closest resembles
Nani
from Lilo and Stitch. But my normal bootcut jeans just don't cut it when I'm pregnant, they look weird on me! Especially if I'm trying to rock a flowy top...suddenly I'm just wearing flowy stuff all over and it's like a badly stitched moo-moo.
These jeans! They are comfy, with mucho stretch, and their fit really isn't super skinny - it's more like a fitted jean. Plus! They are on sale right now ($26.99) - but don't try to use the additional 40% off, because that's NEVER good on jeans (because Gap is a jerk).
-3-
I bought a batch of things from Asos in November and every single one of those pieces delivered, except for one which is just much bigger than I thought it was going to be. But one of them stands out as very comfortable, constantly stylish, and easy to pair with anything - this tunic (for only $24.62, although now sadly only available in a small). I have to consciously try not to wear it every day, especially with my gold flats and a red headband.
Side note: I'm not sure why it looks so long in the picture (maybe because that gal's probably not actually sporting a real belly?), but it really isn't appropriate to wear as a dress - even on me, and I'm only five feet tall! It rides up quickly because of how ruched the sides are and how stretchy it is. Even with tights, I feel pretty self conscious if I'm not wearing pants.
-4-
I cannot get away with just concealer under my eyes, because my skin tone is fairly uneven and gets worse in pregnancy. But I don't have the time to put on war paint like those Pinterest contouring tutorials tell you to! Actually, most of the time, I'm doing my makeup at red lights or in the passenger seat. Also, I really don't have the money right now to figure out if the fancy pots of skin paint at Ulta or Sephora are worth the half-my-grocery budget they cost.
Enter in this lovely, under $12, available at Walmart so I don't have to make a separate trip, CC cream. Apparently CC cream stands for 'color correcting' and is supposed to correct redness and other issues, but I'm not expecting any miracles - I just want something more sheer (sheerer??) than foundation. It's easily applied with my fingers, covers my unevenness, but doesn't cream "I have a mask on!" Sold.
-5-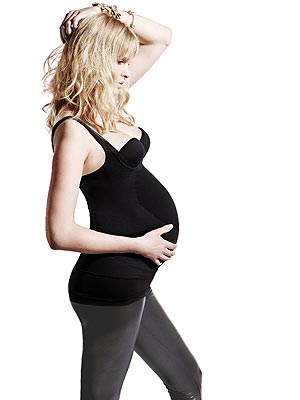 I do not look like this in this product. I am not claiming this product will make you look like this.
The one product I considered last time really delivered. Form-fitting clothing in pregnancy is more flattering (and can be comfortable with enough stretch!), but my body has odd lump and such, so I find this my invaluable companion to getting dressed in anything other than sweatpants. Also, since age-old wisdom holds with very small panties to avoid VPL (visible panty lines), and I am completely against very small panties at any point in pregnancy, I am grateful that the Blanqi successfully smooths out any of that as well. TMI? Too late!
I will say that it is so tight it sometimes rides up, which is annoying when worn under a dress. But I'm also an hour glass figure and a bit on the curvy side, so I think it has more to do with my childbearing hips than the product itself? It seems most reviews by women who have a different shape indicate it's not a problem for them.
PS I never did try the product from Lush, after discovering a dust-up over Lush's support of an anti-Israel group. Although I couldn't find any current info on their site indicating they still support this charity, I then became curious as to what they ARE doing with all the money they earn from their overpriced products. Their full list of supported charities is here and I felt uncomfortable with their support of the 'Hate Crime Hub' (I don't agree that we should criminalize words) and Education for Choice. I'm not a big boycotter, but if I have the choice, I'd rather avoid throwing tons of money at a company that probably sees me as a criminal.