It's late, I need to go to bed, my husband's calling my name because he wants to say our prayers and drift off, holding hands, like we're wont to do -
But I have to tell you. I have to tell you to read Stephanie Nielson's book, "Heaven is Here."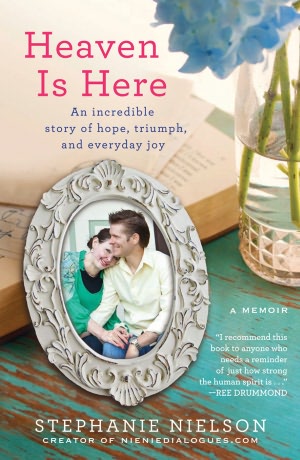 My only disclaimer? Bring tissues because it will move you. Unless you have major issues with Mormons, in which case her book might bug you. But I love me some Mormons (not theologically but I swear I always end up being close with Mormon people), and this woman is just the best.
This kind of book is the best kind - the kind that makes you want to be better, but even more - makes you believe you can. And! it doesn't ignite that spark of envy at all (which I am particularly susceptible to). She's so real and beautiful and blessed. Her tragedy shook me to my core and has made me realize how grateful I am for my silly little life. It's not hokey, it never comes across as fake, it's just Good.
Do yourself a favor, bless yourself by reading this book! And happy Divine Mercy Sunday!