WARNING: I talk about sex below, but not my sex life. Just sex in general. FYI. Dad, please stop reading anyway, thanks!
I was on CAF (Catholic Answers Forum) the other day and someone legitimately asked the question: what lubricants are permitted by the Catholic Church. I almost fell off my chair. This same person said they knew certain positions were forbidden, but they didn't know which ones, causing me to spill my tea. By the time they got to the end of their post, I think I had destroyed my entire desk area out of slap-stick amazement. I kept yelling out loud,
seriously? SERIOUSLY??
Now, granted, I come from a liberal atheist background. My mom was very open with me about sex, and because of my love of reading, I had read every book on sex I could get my hands on by the time I was 16 (despite the fact that I wasn't having sex). So when I became Catholic, I had a lot of questions about what Catholics thought about sex and I wanted 'em answered. I found those answers so compelling, I converted and then went right on to my masters work in moral theology (focus on human sexuality) at CUA. I guess I find the academic study of sex more interesting than the average girl.
Best Thomistic introduction to moral theology, including sexual ethics, I have read so far. It's academic, but still accessible.
I wrote that poster a response, but then I got thinking about how many misconceptions good, Catholic people have about sex and all that it entails. I have had many married Catholic friends who have asked me sex questions that have blown my mind: questions about conception, contraception, NFP, enjoying sex, hygiene, and biology - questions I thought were common knowledge. I know I'm lucky: I got to study these questions in a formal, academic setting, so we covered most all of the bases and I had to buy a ton of books with concise answers and explorations of topics.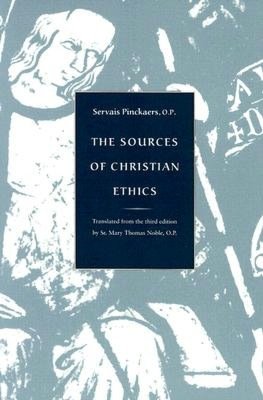 My second favorite moral theology primer. Servais Pinckaers' writing is fabulous and several passages of this book have provided wonderful meditation material.
But...shouldn't there be some resource that helps faithful Catholics have a good sex life? There are a few good books, but not many in terms of practical frank discussions of what being sexual entails. There's a few okay websites, but many of them are Protestant, so they don't address the full breadth of Catholic issues. So I was thinking...what if
I
did that? What if I started a website geared at helping faithful married Catholics answer the questions they have about sex and sexuality, faithful to the Magisterium, mindful of the teachings of John Paul II, and incorporating modern science? I could recruit other people to write articles for the website so that there's a broader scope than just my own personal, limited experience, take questions submitted via email, and have male and female geared topics. I want to address wedding night sex, sex after kids, sex after menopause, the affect of infertility on a person's sex life, and even include people's personal testimonies about why they started being faithful to the teachings of the Church in a certain sex and/or marriage related area. I of course want to have a resources section with books that are helpful and links to websites with more in-depth articles on certain subjects like NFP, infertility, or common sexual problems.
Best popular book on sex I've read so far, but it doesn't (and can't) answer everything...
So that's what I'm thinking of doing in 2012: starting a Catholic sex website. What do you think? Good idea, bad idea? Do you have any topics suggestions, or would you be interested in being a guest writer? Even better, do you have an idea for a NAME for the website? My husband has been working on this, and so far my favorite is "Hot n' Holy" but I think that sounds more like a porn site than I really want...so any non-porn site suggestions would be appreciated!!