Just a few things I really love this week:
One
.
This apple cake recipe
, from the good folks at King Arthur Flour company. My family has really enjoyed it this week and it's kicked off my Fall baking season. Note: I added one container of child sized apple sauce to my batter, but otherwise made it as directed. I did not find it too sweet, like many in the comments said, so I would make it with the frosting.
Two
.
Bridal Bouquet Plumeria:
Last week, Mr. Oram and I went to the Botanical Gardens and while there, saw a lovely stand of this kind of plumeria. What made it especially nice was that the trees were clipped to be like tall hedges (think ficus, about six feet high) and the blossoms trailed all the way down the entire length of the hedge.
I told Mr. O that I seemed to remember
Danielle Bean
getting a tree or a plant every year for Mother's Day - or for the birth of a child? Anyway, we decided it's a lovely idea. So we have some catching up to do! Shop for plants? Twist my arm...
Three
.
First birthday planning
! Her birthday is harvest theme - pumpkins, apples, hay rides - so my mom and I have had fun finding decorations and planning. Bobbing for apples, donuts on a string, pumpkin cake, chili, cornbread...good times for all!
I have had more fun than I should making a
list
of gifts for Zuzu for her first birthday and first Christmas. When I think of lovely things for my girl, mostly what fills my mind are books, books, more books - and maybe some bows thrown in for good measure!
The fun part is that now she will sit in my lap while I read to her. She studies the pictures, watches where my finger points, and sometimes points to things herself, makes a questioning sound and looks up at me. I can see her brain working, trying to categorize those symbols while chewing on all these sounds...learning is so fascinating!
Four
Building a fabric stash.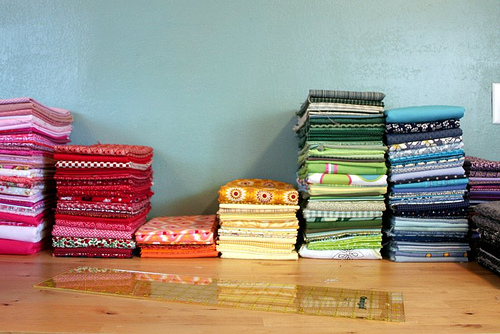 Full disclosure: mine looks nothing like this - it is not this large, color-coordinated, or even neat. Mine is strewn about in odd heaps in the guest room, helpfully organized by Zuzu.
We coupon'd it up at Joannes the other day, and I got some great fabrics for last-minute Christmas projects I'm working on. I did apologize to my dear husband the other day that my two favorite hobbies, gardening and sewing/quilting, are so very expensive. But they're so very fun! At least I'm a simple girl...give me a gift card to Joannes, Lowes, and Homegoods and my cup runneth
ovah
.
Five
Quilts.
Rainbow Strip Quilt by Chicken Julie, made/sold 2011
Oh it's true - I'm beyond obsessed. While I nurse the baby, I just scroll through endless pictures of beautiful beautiful quilts. They're a bit intimidating to me on one hand - all that CUTTING and it has to be PRECISE - and as we know, I am never precise in my creativity. That's why up until now I've only done very simple quilts - strip quilts, or quilted lap duvets (basically, big pillow cases). But I have a big project ruminating in my head, so maybe I'll get ambitious soon enough and try to really quilt.